The total checks written declined to 16.0 B with a value of $26.20 T, a decrease of 4.2 B and $3.48 T from 2015. [1] Checks still comprise 7% of overall transactions [2]. Checks are still an essential form of transaction with high volumes; moreover, the average value of checks written grew to $1,635 in 2018 from $1,468 in 2015. The cost of processing checks is estimated at 30c per check and amounts to close to $450M [3].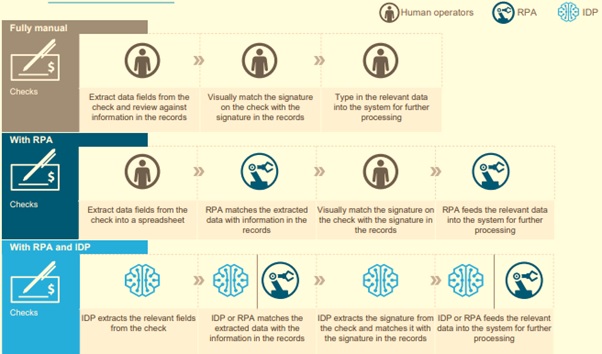 Check processing is a manual process, with human operators reviewing and validating the information in the check and matching it with the customer information in their records. The human operator needs to visually review the signature on the check with the customer's signature on record to ensure that it matches. This manual process is expensive, slow, and error-prone.
RPA can automate some parts of the check processing, such as validating the extracted data with on-record information and feeding the data into banking systems. Still, RPAs have limited capacity to automate a large part of the process.
Intelligent Document Processing (IDP) has the ability to read images of documents, identify the document, extract the required information, understand and process the information. IDPs can extract the required data fields such as the account number, amount, and date from the check and validate that against the data in the banking systems. IDPs like DocVu.AI specialize in this and can also match the signature on the check with the signature in the bank's records and highlight discrepancies better. This reduces the manual effort required to process a check and brings scalability, speed, and accuracy to check to process, and reduces operational costs and costs incurred by error.
[1] – 1
[2] – 2
[3] – 3